Video Editing—What Is It And What Are The Best Video Editing Tools In 2023?
The success of every music video, commercial, or corporate video depends on skilled editing, hence having a good knowldege of video editing is very important. To help you, we've compiled a comprehensive guide covering everything from video editing to the top video editors available.
Video is becoming the most popular type of web content, excelling over all other methods of information intake online. Using video in promotional efforts is becoming more critical for 21st-century businesses.
Providing suitable video material has been more critical for organizations as video marketing has gained prominence in recent years—making it a vital element of promoting your products and services.
It takes effort and creativity to turn your unedited material into a professional-looking video and make the final version ready to use when you have the most excellent video editing tools. You will be able to create professional-looking videos quickly and easily for your online business—but choosing where to allocate your resources will be challenging since many feature-rich video editing tools have hefty price tags and are complex for an everyday user.
If you are interested in beginning video editing, whether it is for a one-time project or as an ongoing endeavor, one of your primary concerns must be to choose a tool that is not only cost-effective but also inexpensive. Other important considerations include price, features, compatibility with your operating system, and support.
To get you started editing your videos, we'll go through some of the best tools available for video editing, but before we do that, let's first attempt to get a handle on what video editing is.
Understanding Video Editing
The process of putting together video clips, images, and sounds, cleaning up and completing a video before it is presented or delivered is called video editing. The process refers to post-production work done after all of the footage and shots have been captured and all that is left to do to generate the final output.
Creating a video or a movie typically consists of the following three stages: 
Pre-production

Production

Post-production
During the pre-production phase, the first step of filmmaking, the screenplay is prepared, the crew is assembled, and the shots are planned. The production phase includes filming the video. In the last stage, known as post-production, video editing, sound editing, and the application of special effects take place.
In most cases, editing requires:
Removing unneeded video or cutting out specific components of a videography

Rearranging and adding portions to video clips and or audio snippets

Adjusting the colors, applying filters, and doing many additional modifications

Developing transitions between individual clips.
The editing is done with the following goal: 
Selecting the most compelling images and videos for inclusion in the finished product
Establishing the rhythm of the story by organizing and reorganizing the scenes in it
Including more effects, filters, and components.
Significance Of Video Editing In Marketing
The use of video in marketing strategies is becoming more popular among companies of all kinds, including sole proprietorships and other types of small enterprises. According to a survey, employing video for promotional purposes has resulted in pretty astounding outcomes for firms, including an increase in brand recognition by 70 percent and a rise in web conversions by 34%.
The relative simplicity with which videos communicate with prospective and existing customers across various channels is a major factor in their widespread appeal. Videos are being used more often by businesses, with a great deal of success, to bring in new consumers, convert them, and keep them as clients.
Businesses are increasingly turning to videos to engage with their consumers now that they have access to faster networks. Most businesses employ videos to assist in capturing value from their viewers.
Including videos in the social media postings ensure:
Improving your position in search results as an effective marketing technique

Offering a more personal approach to communicating with your audience

Having greater visibility and interaction

Maintaining your presence for a more extended period on social networks

Raising awareness of your products and their capabilities.
Best Video Editing Tools In 2023
The finest video editing tools will assist you in transforming your materials into films that are professional looking and polished. In most cases, professionals will want to invest in the most powerful software, which comes at a premium price. On the other hand—less expensive tools with fewer features will better serve novices and are easier to understand and use.
Here are some of the most excellent video editing software for Mac, PC, iPad, iPhone, Android, and others that operate across multiple platforms. While no tool is ideal in every manner and for every user, the following software comes close.
Adobe premiere pro allows you to work on numerous projects simultaneously. It's also a standard part of the processes of most design, animation, and VFX studios. The many editing, effect, and audio areas of Adobe premiere pro, each contribute to the program's overall efficiency. Each desk is dedicated to a single activity, allowing employees to focus on that one thing without being interrupted.
The cutting and editing features of Adobe premiere pro provide excellent accuracy and control over the final product and support 4K, 8K, and VR formats.  Premiere pro, like the other creative cloud applications, Premiere pro receives regular upgrades, and members do not incur additional costs.
Premiere Pro is the most excellent option for video editing pros, video editing students, and other users like these since it is capable of multi-cam editing and 3D editing, gives a free trial for seven days, and more.
Price
Individuals—$20.99/month 

Per license for teams—$35.99/month.
Since this program is pre-installed on all Apple products, it is the go-to choice for editing videos on a Mac. Newbies and occasional YouTubers often use iMovie since it is easy to use, doesn't cost anything, and will handle all of the essentials of video editing. Even though you're limited to only two video tracks, that restriction contributes to the program's ease of use and learning curve.
iMovie's drag-and-drop interface makes it easy to import media from your hard drive into the program, making it typical of the simplicity of Apple's native software. It's a simple tool for making high-impact videos to use in advertising.
Despite its simplicity, the editing suite provides all the necessary features, including the ability to chop and trim, adjust colors, eliminate unwanted noise in the background, and stabilize the shaky film. The program's compatibility with iTunes means you must import tracks from your collection or add sounds from royalty-free audio and SFX library.
iMovie projects are stored in the cloud—they will be viewed and altered from any iOS device or Mac computer, regardless of where the project was first created. In addition, iMovie is often updated, which means that users will be able to anticipate the addition of brand-new features and improvements regularly.
Price
Free—Pre-installed on all Apple products.
The node-based compositing included in Autodesk's video editing software is one of the main reasons many people choose to use it.  To put it in the simplest terms possible, the video editor reaches a greater degree of sophistication than other popular applications.
Autodesk smoke shines as a powerful tool in the editing and finishing features. Although the professional video editing software that you will be able to download for free doesn't necessarily provide something that its rivals have, this particular video editing software comes out on top regarding the variety of 3D effects it provides.
The timeline-based creative process, node-based compositing, the capacity to make perfect use of 3D animations and models, and a high degree of reliability are some of the positives of the toll.
The only drawback with Autodesk smoke is that you will be able to use it on one display at a time. In addition, Autodesk Smoke is only available for users of the Mac operating system.
Price 
$190—Monthly

 $1,505—Annually
Invideo is a web-based video editing platform that empowers individuals, regardless of their prior experience, to craft high-quality videos effortlessly. One of its standout features is its array of AI-powered tools that streamline the creative process. The AI video generator is a game-changer, effortlessly transforming concepts into dynamic visual content. Additionally, the AI script generator simplifies script creation with just a few clicks, saving valuable time and ensuring a cohesive narrative. The automated text-to-speech tool is another noteworthy addition, providing a convenient solution for adding voiceovers to videos. These AI tools collectively enhance the efficiency and accessibility of video production, making invideo an invaluable resource for content creators.
Moreover, Invideo's advanced editing capabilities further elevate the platform. The inclusion of smooth video transitions lends a polished and professional touch to the final product. Another standout feature is the extensive library of over 8 million stock media items, including images, videos, and music, granting users access to a wealth of resources to enhance their projects. Additionally, the availability of more than 5,000 professionally designed video templates caters to a wide spectrum of needs, from social media content to educational materials. These templates serve as a springboard for customization, enabling users to infuse their unique vision into each project. In essence, Invideo provides a comprehensive suite of tools and resources that democratizes video creation, allowing individuals to produce captivating content with ease.
Price:
Free: $0
Business Plan: $15/month
Unlimited Plan: $30/month
OpenShot's straightforward user interface makes it a fantastic choice for novice video editors and one of the best free options for experienced editors. The tool's flexibility and power come from its ability to accommodate an unlimited number of layers for watermarks, background movies, and audio tracks, as well as from the ability to modify premade title-card layouts to suit your needs. OpenShot's primary interface and clean design are ideal for light editing, even if more programs may provide more advanced options.
Available for Mac, Windows, and Linux, OpenShot is a powerful but easy-to-use tool for modifying video clips in a variety of ways, including resizing, scaling, trimming, snapping, and rotation. Furthermore, it has a drag-and-drop interface for quickly uploading video, audio, or picture files, real-time preview, credit scrolling, frame stepping, time mapping, audio editing, and more.
In addition to providing digital video effects like brightness, color, greyscale, and chroma key compositing for green-screen effects, the program also has robust key-frame animation capabilities for making animated films.
Price
OpenShot is a free tool for novices and experienced editors.
Blender enables you to do fundamental tasks like cutting and slicing video and carry out more advanced activities, like video masking. Because of this, it is a very adaptable video editor suitable for both beginners and more experienced users that want complex editing tools.
Blender is one of the most excellent free video editing programs available today, and it is compatible with Mac, Linux, and Windows operating systems. Blender is a free and open-source tool initially conceived as a 3D animation suite—however, it comes packaged with a competent video editing program and functions most effectively for more complex projects requiring 3D animation.
Some of Blender's best features include:
Synchronization, audio mixing, brushing, and the representation of waveforms

Modulation of the playback speed, adjustment layers, transitions, keyframes, filters, and more

 Chroma vectorscope, live preview, luma waveform, and histogram displays are some of the most valuable tools that are included with Blender.
The drawback of the tool is the vast number of capabilities offered by the program that makes it more challenging to master, and most of the available lessons are geared toward the modelling and animation aspects of 3D creation. This is one of the product's significant drawbacks.
Price
Blender is a free software for beginners and experienced video editors.
Apple's Final Cut Pro is an industry standard utilized across the video and movie editing industries. It is comparable to Adobe Premiere Pro. Even with 4K resolutions, the user interface has a clean and contemporary style, the workflow is user-friendly and straightforward, and the program's speed is excellent. It does not need a membership—there is just a one-time cost involved in purchasing it. This is one of the primary advantages it has over Premiere Pro. However, you will require a Mac since no Windows version is available.
The hunt for powerful video editing software designed with macOS in mind has led many Mac users to conclude that Final Cut Pro is the best option to meet their needs. The magnetic timeline is a feature that users like because of its excellent functionality, but if you are used to using other editing tools, you could find it scary. However, if you are experiencing difficulties, several tools are available to assist newcomers in getting up to speed. The organizational elements are highly robust, and users enjoy the grouping tools, the wide variety of effects, and the sophisticated audio tools.
Final Cut Pro supports 360-degree virtual reality, multi-camera editing, rapid rendering speed, an extensive library of plugins, and color correction, grading, and adjustment tools that are simple to use.
Price
When you want to make short videos for social media but need to gain more about the field, Vimeo Create is the most excellent video editing software you must rely on. Vimeo Create includes many pre-created templates, allowing you to drag and drop your video clips into the project—after this, you must adjust the clips using various simple editing tools. You will accomplish so fast and effortlessly on your web browser with Vimeo's premium service, which does not need specialized knowledge or abilities.
If you do not have any of your material, you will also be getting free access to millions of video clips, pictures, and audio tracks licensed for commercial use. Vimeo, unexpectedly, has a straightforward interface—nevertheless, the amount of capabilities is very restricted—this is undoubtedly the most basic video editing software available for those who are just beginning and want to try it. Vimeo will assist you in producing films in a range of aspect ratios, such as square, horizontal, and vertical formats, which are all suitable for use on various social media networks.
Vimeo is a no-skills-required, cost-free video editing tool with high-quality pre-made templates, social media sharing tools, and access to Vimeo's extensive library of stock footage and music tracks, but saving and sharing your final product requires a Vimeo Pro, Business, or Premium account.
Price
Free trial for 30 days

Membership is required after free trial period is over.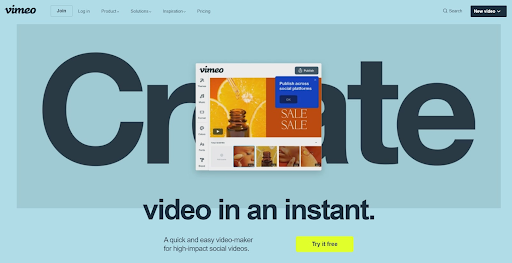 FlexClip is a free simple yet powerful web-based video maker that creates marketing videos and family stories in minutes.
Key features of FlexClip:
1. Online-based platform and easy to use
2. Rich animated elements about dynamic text, overlays, widgets, logos, and more.
3. Millions of royalty free media resources.
4. Comprehensive and powerful video editing tool for video and music trimming, images adjusting, the aspect ratio changing, or effects, voiceover, and watermarks adding.
5. Built-in screen/webcam recorder.
Price
You can check more details of FlexClip here: https://www.flexclip.com/



Tips For Choosing The Best Video Editing Tool
When choosing a free video editor for your needs, it is essential to look closely at the features of the video editing programs available in the market and select the one that aligns best with your requirements.
Finding the intended use is the first step in selecting a video editor. Premiere Pro, Final Cut Pro, or iMovie are great options whether you are an established professional, just starting, or a student in the field.
The next consideration you must have is the technical aspect—whether you need a video editor compatible with Windows or Mac or other platforms such as Android, Linux, iOS or the browser.
Additionally, you need to determine what export formats you require and at what resolution. Do you want something that exports easily to social formats? Is green screen or picture-in-picture capability something you use a lot
One of the vital aspects to consider is the budget—despite free video editing programs, you will often need to pay to remove watermarks, commercials, and other restrictions. You must also consider the cost since some video editing programs are paid for once, and others demand a monthly membership.
Finally, reflect on your current and future video use and the features and functions of other technologies that have either thrilled or annoyed you. It will always benefit if you do some digging to discover one that has some customization options that suit your specific needs.
Choosing the appropriate video editing tool to leverage content and expand your business and brand is crucial. You have many different options available through which you can have a workable solution to begin creating videos for your online business.
Depending on your business requirements, you must pick one of the suitable tools to scale it. Check whether your device's operating system is compatible with your chosen tool since many tools are only accessible for specific operating systems.
Liked the article, don't forget to share it.