How to Create FOMO with Temporary Online Marketing
Within the marketing world, the concept of FOMO (Fear of Missing Out) is a strategy to showcase to potential consumers that hesitating could result in a missed value opportunity.
FOMO marketing is a very good tool for platforms such as paid advertisements, organic social media posts, email marketing, and direct integration into e-commerce websites. Its practical application in online stores paves a path to motivate procrastinating buyers to take decisive action. 
Fear—
Greed—
Isn't it almost always fear or greed that makes us enjoy buying things?  
I get that consumerism works on these emotions—but it is boggling how impactful emporary online marketing is when it taps into the fear of missing out or what is commonly called FOMO. 
All of us are familiar with this—especially in this social media era.  
It is safe to say marketers are smart—if not outright genius—to have tapped into this right from the start. 
In this blog post, we will try to understand FOMO and 5 ways to create FOMO with 'Temporary Online Marketing.'
FOMO? What's that? Said no one ever
We can consider an ad by McDonald's featuring genuine customers relishing a McChicken sandwich while emphasizing its limited-time availability. This strategy is focused on preventing individuals from experiencing remorse and making them contemplate the question, "What if…………..?"
But, FOMO advertising comes with its set of challenges. 
It's a balance between encouragement and intrusion. However, getting into the psychology of buyer motivation and studying successful brands' methodologies unveils the potential for a straightforward execution. 
So, how do I do it? How do you create FOMO with temporary online marketing? We have listed 5 of the best methods to go about it. 
Let's Dig!
1. Scarcity creates panic
It is human psychology—if you find something is rare, it just automatically becomes more desirable. 
Our minds naturally move toward the issue of scarcity, leading to an increased assessment of a resource's worth. 
Our minds tend to exaggerate the worth of a particular item just because it is rare. 
The psychological concept of scarcity is exactly why a restricted availability approach within FOMO marketing yields amazing results. This strategy takes various forms, from straightforward expressions (available while supplies last) to more nuanced tactics.
Let me elaborate it with two examples:
1. Dropshipping is a low-cost, low-risk business
Indeed, certain brands have structured their entire business strategy around constraining supply to spark intrigue. Consider the case of Beanie Babies—its elevated prices were a direct result of the deliberate limited production approach.
The BlendJet advertisements serve as an example that underscores the simplicity required to evoke FOMO about limited supply.
When you step into a brick-and-mortar store, the shelf's item quantity is visually evident. A scanty display might incline you towards a purchase more readily than a fully stocked shelf.
Booking.com, the online travel booking platform, employs a digital equivalent. Whenever a specific room type in a property is nearing full occupancy, the website highlights the dwindling number of available rooms. The reassurance of a free cancellation policy also urges us users to seize the moment and secure a booking promptly.
Truly remarkable, don't you think? 
This strategy can be employed even when a product is in abundant supply. Demonstrating the number of recent product views or instances where an item was added to a cart can evoke the same effect. The consistent notion of "limited availability" serves as a potent incentive, prompting shoppers to make a purchase.
2. Social proof: Conversions and FOMO go together
Think about searching an online business for a fresh pair of running shoes. You find a section containing customer reviews as you browse the product website. A steady stream of five-star reviews is accompanied by remarks like "These shoes improved my performance!" and "Best running shoes I've ever had!"
This collection of positive feedback from fellow runners serves as social proof. It triggers a sense of FOMO as you realize that these shoes have provided exceptional experiences for others. 
FOMO becomes a motivating factor. As a result—you decide to make the purchase, confident that you're choosing a product that has proven its worth to numerous satisfied customers.
3. Use social media but in the right way
Social media offers a range of advantages, enabling global connectivity.
What strikes it as a strategic tool is its real-time capabilities. Whatever you market will be seen and noted in real-time by users. 
However, there exists another side to this. Through social media, individuals can update friends on their activities, whereabouts, achievements, and adventures, sharing virtually every aspect of their lives.
As observers scroll through this—a sense of unease can emerge—a fear of missing out on the experiences of others. 
This apprehension manifests as an overwhelming blend of tension and anxiety. The desire to partake in all activities simultaneously rises exponentially. 
Make note—In reality, social media undoubtedly offers myriad benefits to marketers. Tapping this most ethically and soundly is the way forward.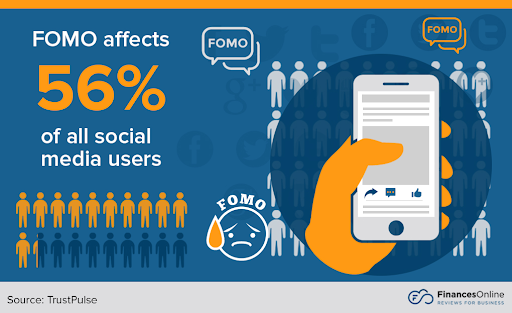 That caught your attention—didn't it? 
It is only natural to feel distressed about time and money. Indeed, those are the two most important things to keep in mind in the practical sense. 
If you think you are smart, you should tap into this tactfully and ingeniously. 
Limited-time editions, short-term promotions, and time-sensitive sales strategies have likely caught your eye in the past. 
Additionally, time-bound offers, such as temporary free shipping, trigger the 'Fear of Missing Out' (FOMO).
Some examples are:-
Seize the opportunity to enjoy a 50% discount without delay!

Make your purchase now!

Ensure you don't overlook this chance!

Act promptly and secure your item!

Research demonstrates there are inspiring examples of shoppers who are inclined to purchase when offered free shipping incentives. Such offers cultivate a sense of exclusivity for the consumer. Time-limited editions, sales, and promotions exemplify tactics that act with deadlines, prompting impulsive buying behavior.
5. User reviews are everything
Believe me, as an ardent shopper myself—I see good reviews—I am sold.  
How do you feel when you're about to make an online purchase? 
Anxiety often sneaks in—accompanied by a series of "what if" ………..uncertainties. 
However—as you navigate more, a sense of reassurance washes over you when you come across those comforting five-star ratings and reviews. 
These testimonials provide a window into the firsthand encounters of fellow customers who have interacted with the product or service.
There is no way to know if it is true—yet it really affects shoppers. 
So use them! 
The influence of others' perspectives is big. It can potentially sway a consumer's verdict. Persuasive reviews can tip the balance in favor of a purchase.
Final word: Strategic FOMO marketing is the key
One of the standout benefits of FOMO marketing lies in its ability to distinguish itself amid a sea of diverse marketing messages. However, excessive use of FOMO can be related to overemphasizing every sentence or employing an all-capital style, leading to a swift dilution of its impact.
To ensure your campaigns are effective in driving FOMO, consider the following:- 
Make a note of heightened buying activity

Integrate FOMO into your overall marketing strategy
As you become an expert in FOMO marketing—witnessing a queue of enthusiastic customers awaiting your products becomes the norm. 
This surge cultivates a cycle where even more individuals line up to take part in the first-hand experience of your offerings.
Happy Marketing!
Ramitha Ramesh serves as the editor at Karbon Business, a fintech company specializing in offering corporate credit card solutions. She is renowned for her expertise in SEO content marketing strategy for a diverse clientele across the US, UK, and India. With a penchant for exploring the fast-paced realm of finance, business, and marketing, her blog is a treasure trove of insights that offer unique perspectives on the latest trends and developments in the industry. Finding nirvana in food, fun, and travel, she is on a mission to counter the infodemic amidst digital chaos.
Liked the article, don't forget to share it.