The Ultimate Guide To Drive Crazy Traffic On Your Blog Using Pinterest
Pinterest is one of the social media sites that many bloggers and business owners ignore. With over 450 million visitors each month looking for inspiration, Pinterest is an amazing platform for increasing your audience and placing your products in front of ready-to-buy potential consumers. Pinterest is an effective platform for a number of different blog genres—including tech, fitness, finance, childcare, coding, and many more.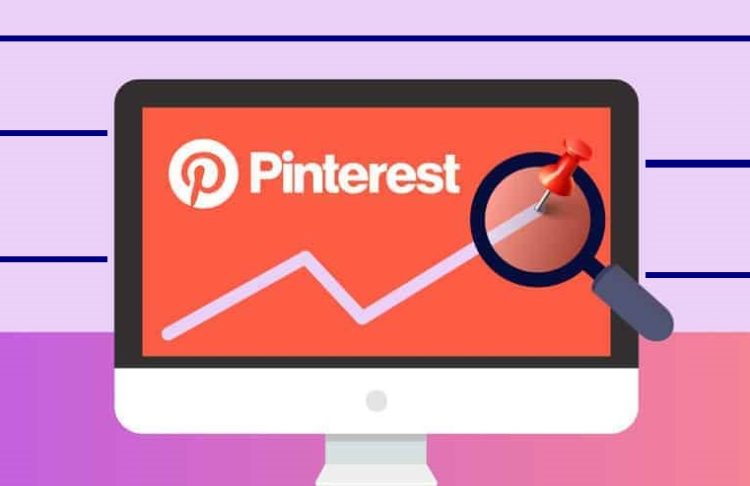 Several conventionally "masculine" brands—like Harley Davidson, Dollar Shave Club, and Art of Manliness, employ Pinterest as part of their marketing plans. More significantly—some of the biggest businesses, like Apple and Walmart, are establishing a claim on Pinterest for their marketing initiatives. This demonstrates that businesses, bloggers, start-ups, and entrepreneurs will experiment with group boards, pins and repins.
You must be aware of how challenging it is to attract people to visit your blog mainly when your budget is tight for paid advertisements. Using Pinterest to increase blog traffic has some advantages.
Although many people require assistance in order to understand how to use Pinterest for blogging as a resource for starting their businesses, it is a fantastic source of traffic for bloggers.
Here are some startling statistics:
In contrast to Twitter and Facebook, pins on Pinterest will always propagate.

A tweet on Twitter has a half-life of 24 minutes. Facebook posts last 90 minutes. A

pin has a half life of 3.5 months

! (This indicates that 50% of visits take place after 3.5 months).

Up to 2 page visits and 6 pageviews happen from each pin.
Let us walk you through how to use Pinterest for blogging and drive traffic to your blog. Before that, we will try to understand the significance of Pinterest in driving blog traffic.
Reasons Pinterest is great for driving blog traffic?
It is ideal for bloggers to attract traffic to Pinterest due to its abundance of content. Unlike Twitter, Facebook, or Instagram, Pinterest material never expires and can be retrieved years later – thanks to a search tool that users use every day.
Let us go further to discover why Pinterest is so important to bloggers.
Pinterest is a search engine
While the majority of people believe Pinterest is a social networking platform—it is essentially a search engine. This implies that your information will be found for years after publication instead of vanishing a few hours afterwards, as it does on platforms like Facebook and Instagram.
People are keen on buying
As per research, 47% of Pinterest users make purchases on the platform, which is higher than 15% on Facebook and 11% on Instagram.
Pinterest is less difficult to rate
While Pinterest's algorithm isn't as sophisticated as Google's, ranking for popular keywords is easier and faster.
Pinterest has a high-income audience
Research reveals—27% of people who use Pinterest make $30,000-74,999 annually, while 41% earn more than $75,000 annually.
Strategies to drive crazy traffic on your blog using Pinterest
So, how to use Pinterest for blogging? Here are some excellent strategies for improving your pinning approach and increasing traffic on your blog.
1. Create a business account
Before getting started, you must create a new account—this is quite simple. Sign up for a free Pinterest for a business account or convert your current account to notice a meaningful difference in your pinning efforts.
You must build boards—they are essentially pin folders. There are five types—article, product, movie, app, recipe, and place—each with its own set of pin upgrades such as real-time pricing and a direct connection to your website.
As soon as you join up, you'll have access to Pinterest analytics, which contains crucial data on the activity of your pins, after you've verified your website with Pinterest. Individual or group boards with the ability for other Pinterest users to add pins to the board can hold the pins.
Article pins are helpful for bloggers because they allow you to highlight your most recent blog post with your logo, a larger title, and a link to your website.
The ideal approach to placing your pins must be considered while putting up your boards. For instance, as a travel blogger, you must organize it by destination, often a continent, and frequently have a board for kids and one for adults for each location. Include other boards for food and kid-friendly activities, as well as "travel adventures" and "travel inspiration."
Your pinning approach will benefit from the following additional features:
Pinterest guides—Pinterest includes guidance to assist you in setting up your boards, using statistics, and pinning.
Tools—You have a variety of pin tools at your disposal in addition to Rich Pins that will help you reach more people. Making it simple for people to locate you and pin your content with Sponsored Pins and the Pin It button is possible.
Video library—Videos in the video library will be seen to learn how to optimize your campaign or create clickable Pins, among other things.
Marketing Blog—Get helpful promotional advice for this platform, and keep current on all things on Pinterest.
2. Conduct Pinterest keyword search
For your content to rank higher in search results, you must conduct keyword research to find the most common search keywords consumers enter into search engines.
One of the finest strategies for increasing blog traffic on Pinterest is to optimize your Pinterest pins using keywords and long-tail keywords (keyword phrases).
Like Google, the best, most relevant results will appear first when you enter a keyword phrase in the Pinterest search window. This is so that Pinterest can determine what your pin is about based on the image, pin title, and pin description text. This is how Pinterest search and keyword SEO functions.
Keyword research for Pinterest is easier than keyword research for Google. Here are three methods you need to employ to locate keywords in your niche:
Pinterest search engine
As you begin typing a search term associated with your blog's specialty—Pinterest will immediately recommend more frequently searched terms. These suggestions are based on the search terms that several users of Pinterest have entered.
For instance, if you put "weight loss" into the search bar—the following choices will show up:
"Weight loss" recipes
"weight loss" plans
"weight loss" juice recipes
"weight loss" smoothies, and more.
Explore Pinterest
The second method is to check out what kinds of articles are most popular in your niche by visiting Pinterest's explore page.  Once you click on a topic, Pinterest will provide information like featured articles, trending searches, and popular ideas.
This is a terrific approach to finding out what's trending and the terms your competitors are using.
Pinterest Ads
Go into your Pinterest account and select Ads > Create an ad to identify keywords using Pinterest Advertising.
Creating a campaign won't be happening, so don't worry. All you need is greater keyword visibility.
Next, click New Ad Group. Choose any method, then click on Keywords & Interests > Add keywords.
Monitoring your Pinterest keywords
As you'll use these keywords to develop content and improve your Pinterest account, it's time to put them down somewhere.
The true test of your success on Pinterest is how frequently visitors click over to read the posts on your site.  For instance, to get some decent recurring traffic, you need to have an evergreen pin about your brand. Be careful to optimize it using the appropriate keywords and phrases.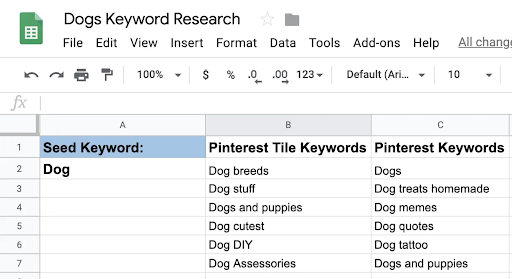 3. Niche down your Pinterest profile
You should be aware that Pinterest is making every effort to determine what your profile is about as a blogger with a Pinterest profile. It determines your Pinterest profile specialty using data about your user activity and other factors.
Pinterest will learn about the kind of pinner you are—for instance, by looking at the boards that you have on your profile and the pins you make to them. Similarly, Pinterest will learn more context about your profile by looking at the pins other users save from your account.
Thus, narrowing your profile is the finest thing you can do.
For instance, if you are writing about weight loss ideas, you must eliminate all the other keywords and niche to just weight loss tips instead of going for other related keywords.
4. Use idea pins to increase your pinterest followers
You must interact with your followers and follow social media trends if you want to succeed at social media marketing. This is valid when you wish to convert your Pinterest followers into blog readers as well.
Idea pins are a tool to raise your profile and establish trust. Even though it's not the typical method to use Pinterest to promote blog material, it's a fantastic approach to demonstrate your expertise.
People are more likely to want to connect with you on your blog and other websites if you engage with them on Pinterest. By leveraging Idea pins, you will increase your Pinterest following and interaction on your profile.
Here are some pointers for using Pinterest effectively:
Ask questions that are addressed on your blog and pin quality, original material.
Give something back and follow your followers
When you genuinely believe your followers' pins are fantastic, repin, like, and comment on them
Pin frequently and regularly so that your Pins appear in the feeds of your follower
Look at the boards and pins of your followers to get ideas for engaging content and repin authoritative sources in your followers' field.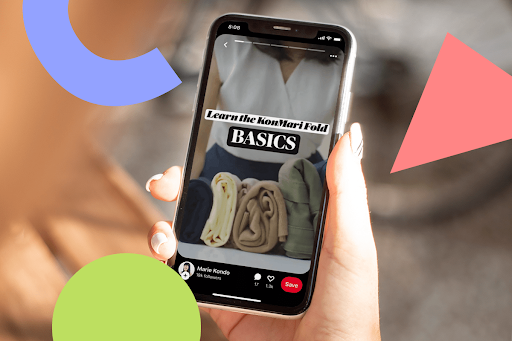 5. Match the title of your blog content
Like Google, Pinterest scans your blog article to see how closely it connects to the Pin that is connecting to it. The term 'pin cohesion' is used by Pinterest engineers to describe the process of ensuring that your pins correspond to the information they are linking to.
The web page for a pin must match its semantics for Pinterest to approve it.   
For instance, Pinterest could anticipate seeing a link to a store selling items for home décor if you upload a pin with the title "sofa pillow" and put it to a board called "living room décor."
6. Your pins must stand out
Most people will give you the same advice when it comes to an understanding how to use Pinterest for blogging and making your pins stand out—choose vibrant colours that attract attention.
Brighter colours do tend to draw more attention, but it only sometimes makes them a smart choice for Pinterest.  The rationale behind this is because if everyone paints their pins in vivid colours, nobody will stand out.
A better strategy is to develop something unique by taking inspiration from the pin designs of bloggers in your area.  Choose earth tone colour combinations, for instance—if you're in the fitness niche and see that all the pins have vibrant colours to stand out. If you notice that everyone is choosing earth tones, choose something more vibrant.
7. Add text to your image
Starting to add text to your image is a terrific idea if you want your pin to garner interest and drive traffic back to your blog. If done correctly—it helps the pinner quickly and clearly understand what your pin is about and makes it appear more professional.
Let's now examine how this feed's pins lack text and how simple it is to scan them without seeing them.
These days, adding text to your photos is simple. Anybody can easily add text to their photographs thanks to free image editing software like Canva. If you want additional options and tools to make your photographs stand out, you may also get Adobe Photoshop. They provide a reasonable monthly plan and instructional videos to support you.
Google fonts is an excellent place to start if you need help finding free fonts.
8. Showcase your blog's writers
Your relationships will be better the more your Pinterest followers know about you. This is effective if you also want to increase visitors to your blog. Let your followers meet the people who write the content. 
Create a colourful, engaging Pinboard to highlight your blog authors and—
Don't forget to include the author's face
Provide a brief bio that includes a peculiar passion that relates to your lifestyle 

Add a brief excerpt from the blog article and credit the author.
Your viewers will feel they are getting to know one of your authors by reading about them. They'll be more inclined to want to follow you on your blog.
You must now be familiar with the fundamentals of opening a Pinterest account—expanding your follower base, making an impactful pin, and using it to market your pins to increase traffic to your blog without spending money on ads. The readership on Pinterest is dynamic and diversified. Also, don't ignore the increasing opportunities of Pinterest combined with a focus on niche-driven SEO offers to broaden your audience and improve traffic to your site.
Liked the article, don't forget to share it.