Instagram Handle Or IG Handle: What Is It And What Do You Need To Know About It?
Selecting a username is necessary when setting up a personal Instagram account. The identity you use on Instagram to interact with followers is this username, often known as an Instagram handle or IG handle. You get recognized and set apart on social media by your handle. A strong handle connects directly to a profile, quickly identifies you, and is memorable.
Instagram is currently one of the most popular social networks in the world. Like many social media platforms, Instagram requires you to select a username and password to sign up for the app—without a username, it would be difficult for users to stand out and be found and followed by other users, given that Instagram will have around  1.44 billion active users by 2025, making it over 31percent of global internet users.
Instagram handle is an important tool for creating a distinctive brand or a business for your audience. You are free to select the handle of your choice. Your username can be anything that makes you identifiable, including your name your creativity is the only limitation. A handle is similar to the URL for your Instagram page.
Let us walk you through the fundamentals of knowing IG handle meaning—whether you're a company owner or an individual user of Instagram. By the time you're done, you'll be a pro at Instagram who can quickly create, modify, and promote your own account.
Understanding an Instagram handle
Your username on Instagram is called an "IG handle" or "Instagram handle." It reflects your personality and individuality to followers and is exclusive to you—meaning no other account can have the same handle.
Once you select your Instagram username, nobody else can use it. However, an Instagram name can be the same for various users. Most users choose a variant of their name, the name of their business, or a phrase associated with the Instagram post they're about to publish, like 'naturelover22'.
Your Instagram handle is your online Instagram address that works like a phone number. However, instead of making calls, you can use Instagram's chat and other app features to communicate with users. IG handle is an exclusive connection to your Instagram account. It takes letting someone know your handle for them to locate and follow you directly on Instagram.
Your Instagram account's hashtag is your Instagram handle. Your handle (Instagram username) may be used to tag you in articles, pictures, and videos. Robert Weller, for instance, may be reached at 'robertweller'. You will be able to see his profile by visiting www.instagram.com/robertwelle. To tag a profile, put the @ symbol in front of the username—like @robertweller. 
If you run a business, the name of your company, brand, or content should appear in the handle of your business profile. This is crucial for your brand's exposure and accessibility. Your business handle and the hashtags you employ create a marketing approach to reach the intended audience.
How to pick the best Instagram handle
Your digital brand's most important element is a strong Instagram account. To start, consider the type of Instagram account you are managing;it is essential to understand whether the account is:
Personal—Use your name as your Instagram handle if you're creating a personal brand. You may also think of short versions like @ReneVee.
Business—If the account is for your business, your Instagram account should likely be your company's name. Customers will see that your account is official in this way, which will increase recognition.
Curation—Pick a handle that highlights the stuff you're going to publish on Instagram if you're curating and sharing it there, such @PetLover.
Here are some additional suggestions to help you select a proper IG handle.
Here are some additional suggestions to help you select a proper IG handle.
1. Keep your IG handle Simple
You shouldn't need more than the Instagram handle's 30-character limit, so you must create what you have to say into a catchy, short, and easily searchable name.  
The greatest handles are simple to use and access while expressing little about your account. Instagram handles, like URLs and company names, must be short and easy to remember. As an illustration, let's say you run a food business—Kate Foods. It is best to use the handle @KateFoods. 
But, you will need to make some adjustments if the name of your business is already used. For instance, you may include your location—@KateFoodsNewYork or a phrase that best represents your company—@KateFoodsVegie.
However—it is usually wise to keep your Instagram username brief. Your handle is more likely to be misspelled or forgotten the longer it is. Avoid using complicated spellings. It could be preferable to abbreviate your name if it is difficult to spell. Avoid using underscores or dashes since your readers might not know where to put them.
2. Incorporate your niche into the handle
An excellent suggestion for setting up your IG handle is to incorporate words related to your niche, whether it be travel, dancing, fitness, photography, or art. Additionally, it gives a static profile some distinctiveness and fascination, giving the IG handle meaning a weightage.
Consider using keywords associated with your specialization in your Instagram handle, if suitable. 'The food nanny'—a business that deals in food specialities, has a simple @thefoodnanny Instagram account related to their niche, and such IG handles get easily accessed.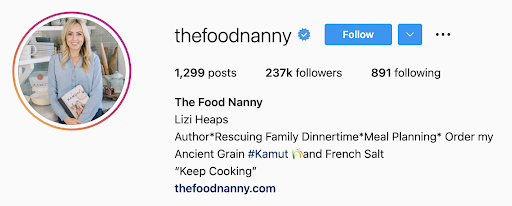 3. Use only necessary letters and symbols
Instagram returns a list of profiles with the most pertinent handles when you do a search. It may be easier for people to discover your profile if your username contains additional characters or symbols.
Although handles are limited to 30 characters, keeping them brief and to the point is preferable. Long handles are more challenging to remember and find online. Let us see which of the handles below is simpler to recall.
For instance, @AndrewsFoodBlog will always be a better option when compared to @AndrewsFoodBlogNYC9632.
4. Consider your long-term goals
It might be a fantastic discoverability Instagram hack to emphasise your or your company's speciality in your Instagram username. 
However, you must always keep in mind the long-term objectives you have for your business and social media platforms. For instance, don't commit yourself to only one product in your Instagram username if you're a business with future intentions to broaden your product line. 
Instead, choose more encompassing phrases like @shopbrands that offer you the flexibility to develop in the manner you choose.  
Future branding might negatively affect your discoverability and engagement, so planning ahead will help you avoid it.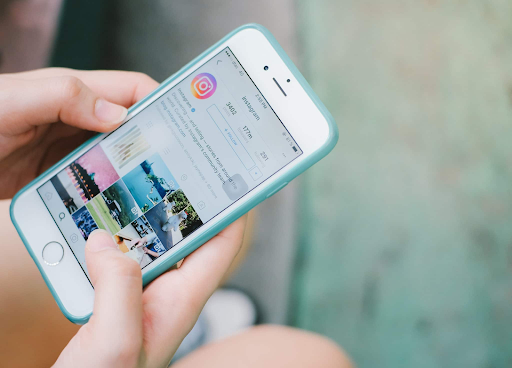 How to change an Instagram handle
If you have decided to change your IG handle, it's crucial to know before making your choice what will and won't change after you change your Instagram handle.
One of the main components of your profile's URL is your handle. People who bookmark or save a link to your previous username will be sent to a page that says—"Sorry, this page isn't available." The same applies to each post, remark, and "like" your previous account has been tagged in.
Additionally, you must change this information if you have linked your Instagram handle in an email signature, blog post, website, or business card, which can be a nuisance.
Instagram provides you 14 days to change it back if you doubt your decision to alter your handle. Instagram provides you 14 days to change it back if you doubt your decision to alter your handle. But there are good arguments for doing so, including rebranding.
So, When you decide to change your IG handle, you can choose a different one. Adhere to the instructions below.
Open your Instagram profile on the Instagram app
Click Edit Profile under your profile picture
Click on the username and type in a new handle as desired
Tap the checkmark symbol In the top right corner.
You won't be able to select the old username again in the next 14 days after changing to a new one. However—you can use other usernames.
Instagram is known to be one of the world's most popular social networking sites. Choosing your Instagram handle may seem small but it's essential to building your digital identity and will determine your success on this social media site. Choosing an Instagram account that is searchable, memorable, and relevant to you among the platform's millions of users is crucial. So take your time, use social listening and experiment with combining the keywords that best describe your products or kind of content.
Liked the article, don't forget to share it.