19 Amazing Hacks To Go Viral On Instagram With Examples
Marketers often use Instagram to showcase their brands. Instagram is an ever-evolving platform, introducing new features and upgrades frequently. While you may think you have a great knowledge about this picture and video sharing app—there are many Instagram tricks and hacks you probably aren't aware of. 
Instagram has been one of the most widely used social networking sites since its launch, with over one billion monthly active users. A 2022 global survey found that 79% of social media marketers advertise their businesses on Instagram.

Viral Instagram content is that which prompts users to tag friends, like, comment, and save it to albums. Instagram content that goes viral attracts crazy traffic and engagement than your typical posts do. When an Instagram post receives thousands of likes, views, and comments while being uploaded by an account with only a few hundred or thousand followers—it is said to be viral.
Going viral today is more difficult since many factors must be in your favor. This seldom happens. From valuable tips to top editing tricks, following the latest social media trends and several Instagram hacks are sure to make your videos stand out from the crowd.
Instagram 'Reels' is now the most attractive feature. One of the finest strategies to increase Instagram engagement and follower numbers for your brand or company is to create reels—in fact, reels are now a true growth hack.
Let us walk you through some essential hacks to go viral on Instagram, but before that, let us try to understand how many hits it requires to go viral on Instagram.
How many hits does it require to go viral on Instagram?
The majority of Instagrams get viral through increased engagement. This calls for immediate action to stimulate and increase involvement. A significant increase in interaction is intended to push your post into Instagram's 'Explore' tab—making it even simpler for users to find and watch your posts.
Posting content that travels over Instagram quickly and is shared by a large number of people is known as becoming viral on the network. While that is really simple to realize, it will be more challenging to comprehend how to go viral genuinely.
There are no established standards or cutoff points for determining when the content becomes viral. Even if your account has a few hundred or thousand followers, you still need at least 100,000+ likes, views, comments, and thousands of remarks to go viral on Instagram.
However, reaching that goal is challenging and takes work. But what matters is how much your audience interacts with your content. Many aspects need to be considered before deciding the same that include:

The number of unique users who have used it 
The number of shares a piece of content has
The number of link clicks a post receives 
How many likes the post receives
How rapidly is the information digested
19 Amazing hacks to go viral on Instagram
Instagram's virality is not that tough to achieve. Just a little amount of attention is needed. The following hacks will ensure your Instagram goes viral.
Instagram hacks are categorized into:
General Instagram hacks 

Instagram hacks for photo and video sharing

Instagram bio and profile hacks

Instagram hashtag hacks

Instagram direct messaging hacks

Instagram for business hacks

Instagram Reels hacks
Let us delve deeper into understanding these Instagram hacks and how to execute them.
1. Delete your search history
Instagram saves your search history to help you find accounts or hashtags you've already searched for. Ensure that no one learns what you are hunting for on Instagram. With an Instagram hack, you can completely delete your search history.
How to execute:
Select recent searches

Click "clear all" and confirm

.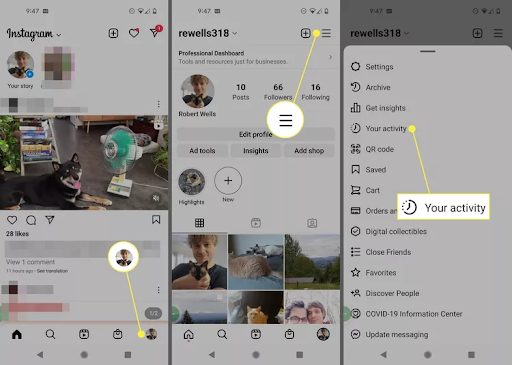 2. View all your liked posts
To find a captivating image or video that another user has posted, look through the history of your liked posts. Review all of your previous photos likes for a trip down memory lane.
Although, viewing all your liked photos on Instagram is not feasible—you can see the 300 posts you interacted with most recently by going to your account settings in the Instagram app.
How to execute:
Open the Instagram app to see liked posts on your iPhone or Android device
Tap the account symbol located at the bottom-right corner
Click or press the hamburger menu in the top-right corner of the account page
Choose "your activity" that displays at the bottom of the screen 
Select Interactions from the list on the "your activity"
Now select the menu item labelled "Likes."
You can see your 300 most recently liked posts on the following screen. Tap one of the thumbnails to see the entire posts from the user's feed.
Instagram displays posts in chronological order from most recent to oldest when you first click the Likes menu. However, you may arrange your loved posts differently.
3. Bookmark your favourite posts
When you come across an amusing video, new clothing you like, or even inspiration for a future vacation, you may keep track of your favourite postings from your profile.
The bookmark button saves Instagram photos you find good to an offline gallery so that you may return to them later. The new private tab on your profile allows you to view them, and, as you might anticipate, they can be deleted just as quickly as they are created.
Consider these collections as your online photo album. Save your favourite Instagram posts for later by using this method.
How to execute:
Visit the post you want to save
Now tap the bookmark icon under the post you need to save 
By doing this, the post is instantly included in a general collection
Choose save Collection if you want to send it to a specific person 
From here, you may choose an existing collection or start a brand-new one.

Go to your profile and press the hamburger menu to view your collections and saved content

—

then click Save.
4. Increase your post reach through paid Ads.
You can improve your feed post to make it into an advertisement from your computer or the Instagram app. When you build an ad-utilising boost—you may select more profile views, website visits, or messages as your advertising aim. Product-tagged posts on Instagram can also be promoted.
According to social media marketing data, Instagram has over 2 million active marketers. And the reason for this is that many marketers know that Instagram users are more inclined than users of other platforms to interact with sponsored material there.
Therefore, you must spend money to advertise your posts and broaden your reach if you're interested in generating Instagram content that goes viral.
On Instagram, being viral doesn't cost much. The majority of engagement strategies are free to use. 
However, if you're using sponsored advertisements, be prepared to pay between $0.50 and $1.00 for every click. Instagram advertising expenses can go as high as $3.00 per click if your industry is cutthroat, like the fashion or beauty sectors.
5. Do not display articles or posts from accounts that you follow
Instagram is displaying additional content from users who are not following you. Your content could become more discoverable as a result of this update.
Additionally, Instagram has a new feed that only highlights posts from the people you follow.
Therefore, you would not want to see the videos of the individuals you follow, but you also want to avoid offending them by unfollowing them. Simply mute them.
How to execute it: 
Mute Notes, Posts, and Stories
Navigate to the account you wish to mute
Click the following button
Select whether to silence all posts, Stories, or Notes.
Alternatively, you may mute Stories by selecting the three dots in the top corner and then selecting Mute
Select three dots in the upper right of the post and select Hide to silence a post directly from your feed

—

then select Mute.
Muting the messages
On your feed, click the message icon in the upper right corner

Select a message from the account you wish to mute

At the top, click on their profile name

Select whether to mute calls, texts, or both.
6. Create notifications for other accounts
Never miss a new post from your favourite fan page again—this can be achieved by adding notifications for your favourite accounts. You'll be alerted anytime someone you follow shares a post if you enable alerts for them.
You must go to each profile separately to turn alerts on or off if you want to do so for more than one person. Whether or not you have notifications enabled for that individual, you will receive a push notification when someone you follow shares anything for the first time in a while.
How to execute:
Go to the account's profile page whose notifications you want to receive.
Click the Alarm bell button in the top right

Toggle the content for which you wish to get alerts

—

stories, reels, posts, or live videos.
Instagram hacks for photo and video sharing
7. Add line breaks in your caption
Devoted Instagram users must be already knowing how challenging caption formatting can be. Even if they are included in your caption's format, line breaks have been known to be removed by Instagram in the past. You could have relied on inserting random characters or emojis to create line breaks to your captions if you've increased the character limit from a few words to entire paragraphs.
Fortunately, there is an easy and quick way to incorporate line breaks into your Instagram captions without using hidden characters. Making line breaks in your Instagram captions allows you to manage the rhythm of your post, which is one of our favourite Instagram caption tips.
How to execute:
Edit your photo and go to the caption screen.
Use your device's keyboard to type 123 to access the Return key.

To add breaks to your caption, press Return.
8. Select a cover picture for your video
You may select a cover photo for each video you publish on the photo and video-sharing website Instagram. Additionally, you may edit the video's cover image to make sure the correct area shows up in the square video sample on your profile.
Ten seconds into your video, you thought your outfit was adorable, and you want the world to know it. Here's how to choose the image that opens your video.
How to execute:
Create an intro picture with a graphic design tool like Visme or Adobe Spark, and then use

video editing

software to add it at the start or conclusion of your film
Tap "Next " after selecting a "Filter and Trim "
Click your video in the upper left corner of the screen, where it reads 'Cover'.
Choose the intro image from your camera roll.
9. Record a hands-free video
Use Instagram's hands-free option to record videos if you don't want to press the record button for extended periods. You will be able to start and stop the video at any moment, and activating it is simple.
This option is handy if you want to record a video that requires you to put your phone down and move away from it, such as if you want to film from a distance or for a long time.
How to execute:
To add a feed, click the + sign in the top right corner
Now click Story followed by click Camera
Swipe through the side-screen options, such as regular, Boomerang, etc., and pause at the Hands-Free recording choice
Tap the record button at the bottom of the screen to start recording
You may let the allotted time expire or hit the capture button once more to cease recording.
Instagram bio and profile hacks
10. Hide photos in which you have been tagged
The app makes it simple to remain tagged while hiding Instagram photos. Your friends and relatives tend to like sharing images of you when you are not quite ready for your close-up, so even though you know the person posting, you still want to conceal some of the posts you are tagged in.
The world doesn't need to be aware of your Monday antics, even if your pals' feeds are flooded with pictures.
How to execute:
To access the Images of your page, tap the person in a box symbol below your bio
To delete a photo from your profile, tap it
Select tag options by tapping the three dots in the top right corner of the screen

Choose to hide from My Profile or 'Remove Me From Post'.
11. Get more search results for your bio
One of the greatest methods to broaden your audience on Instagram is with a solid Instagram SEO approach. Refreshing your niche SEO knowledge will make you more searchable and will also foster community interaction.
By incorporating relevant keywords into the name section of your bio, you can take advantage of Instagram's SEO tools and increase your chances of appearing in relevant search results.
How to execute:
Select 'Edit Profile' in the top right corner of your Instagram profile
Change the wording in the 'Name section' to reflect your keywords.
Select 'Done' in the upper right corner of your screen
Alternately, modify your 'Category' to better represent your keywords.
12. Discover the most relevant hashtags to use
Hashtags have transformed social media since they were initially used to organise conversations in IRC chats, revolutionised the way we remember the past, and brought attention to pressing social concerns. On Instagram, it's a lot simpler to discover relevant content. Instagram would only be possible for marketers and influencers worldwide with hashtags. But we must employ well-liked Instagram hashtags to fully utilize their potential. 
Incorporating hashtags into your content is essential if you want to get found. Here's how to determine which ones will help spread your content the fastest.
How to execute:
To access the Explore tab, click the magnifying glass symbol
Enter a term and select Tags from the column
Pick a hashtag from the offered list
Clicking on this will bring up a list of posts using that hashtag

Look up popular posts for comparable and relevant hashtags.
13. Hide hashtags in 'Stories'
Using hashtags is a wonderful approach to interacting with your followers on Instagram. These tags, however, could give the piece a cluttered or artificial appearance. So how can you maintain Instagram stories attractive and organized by hiding hashtags?
Using pertinent hashtags will increase the number of people who see your story and increase engagement. Increase the number of people who notice your Story without cluttering it with hashtags.
How to execute:
Click the + sign in the top right corner
Select a picture to add to your Story
Use the Story sticker to add hashtags, or type them in as text
Your hashtag should be tapped and then compressed with two fingers. Reduce its size gradually until you can no longer see it.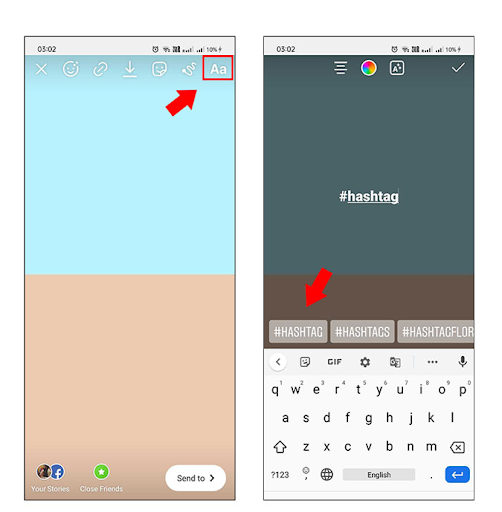 Instagram direct messaging hacks
14. Send your friends disappearing content
In 2022, Instagram updated its disappearing messages function. You will be able to direct message friends with disappearing images and videos in a single thread on the app.
Shoot cautiously since you cannot see what you have sent. But only if they remain in the thread can the person you sent the message to rebroadcast it.
How to execute:
Click the message symbol in the upper right corner of your screen
Select "+" next to "Notes"
Select whether to share with followers you receive retweets from friends.
Instagram doesn't make it simple to locate the feature, which is why groups aren't frequently used. Finding groups requires effort, but everything becomes relatively simple once you do. 
You must know that Instagram's browser app does not enable group conversations or direct messaging. This Instagram hack might be helpful if you want to keep in contact with your closest friends or have conversations with your top clients.
How to execute:
Click the message icon in the upper right corner of your screen
Go to the 'new chat" icon
Click the chat name at the top of your screen to add the group members you wish to communicate with
 Add new participants if you want to alter the group name or theme.
Instagram for Business hacks
16. Upgrade to business profile
You may convert your profile on Instagram into a business account to gain access to tools that can help you expand your online business. When you formally identify as a company on Instagram, you gain major benefits, including the ability to run advertising and access analytics.
You may access free business tools with a business account, including:
Viewing analytics that can provide you insight into Instagram users that are engaged with your brand.

Gaining access to the Instagram-curated instructional content section of the Professional Dashboard, where you can keep track of your progress, find and use professional tools, and explore.

Having the choice to reveal or hide your profile's company type and contact details.
How to execute:
Upon entering your profile, select the hamburger menu
Tap the switch to business account
Include specifics like the type of your company or accounts and your contact information.
17. Send new followers automated welcome messages
A welcome message may now be configured for your Instagram business account. When someone initiates a new chat with you, they will immediately see the welcome message on Instagram Direct.
Your welcome message may serve as an overview of your company and help you forge stronger relationships with your clients and supporters. Once the other person answers with their first message reply, your welcome message will vanish.
This Instagram hack automates crucial interaction to maintain contact with your followers.
How to execute:
Create a StimSocial account and link your Instagram account.
Select a subscription strategy.
Create an original welcome message.
You can now add captions or subtitles to Instagram Stories and Instagram Reels using the platform's new accessibility tool. Brands and producers may endeavor to provide a more inclusive experience for their community with the captions sticker.
Add captions to your Reels to increase accessibility and help viewers comprehend your material.
How to execute:
To add a feed, click the + sign in the top right corner
Select "Stickers" from the top toolbar
The fastest-growing feature on the Instagram app is now Reels. The typical Instagram user watches Reels for 30 minutes per day.
Reels are a fantastic method to establish your brand and interact with your audience. But creating and editing a new video every day might be challenging.
By planning your Reels in advance, you won't ever have to be concerned about missing an opportunity. A social media management tool is all you require. Here is how to do it using Hootsuite.
How to execute:
Activate Hootsuite Composer
Select your Instagram profile
Upload your video there and add some text
Write "Post to Reels" under the Notes for Publisher section 
You can choose the day and hour that the Reel will be published
A push notification will be sent to you when it's time to post.
Instagram is one of the most entertaining applications today and you have simple to use Instagram tips, techniques, and hacks that can help you increase your profile, create a vibrant and active online community, and go viral.
Additionally many of these hacks will improve your Instagram presence. Spend time on Instagram, use your creativity, and evaluate your efforts to see what is and is not working. Use data, social listening, make adjustments as necessary and grow your audience and social media engagement.
Liked the article, don't forget to share it.
More on the RankHandy Blog